ARCHIVING and SECURITY
Hello, we are Bingo & Butsch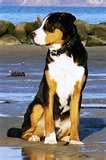 We're both permanent members of the translation team. We're not just a couple of lap dogs, but fully qualified security staff whose aim is to ensure that your documents are treated with the utmost confidentiality. No one gets past us without being noticed. Wuff.
Furthermore, we supervise the administration of archived documents.
This is NEW:
Since July 2009, our office has been reorganised in order to facilitate a new archiving system, i.e. we store all documents relevant to your company for a period of 10 years, so that you, as a customer, are always able to fall back on previous texts and translations, thus, you can easily perform any possibly required changes and supplementations.